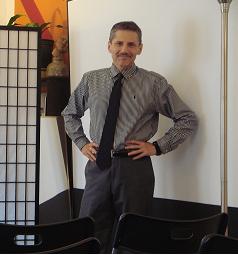 Director - Charles diCagno
Guide for mastering public speaking and related anxiety - $25 - Order
Practical advice for managing public speaking and related anxiety

Why it Works! / FAQ

Phobia Quiz / Schedule

Location / Map / Instructor

Testimonials / PayPal

Privacy Policy / Contact
Schedule
Tuesday 6:30 PM / Wednesday 6:30 PM
Thursday 6:00 PM / Friday 6:00 PM / Saturday 10:00 AM

Tues / Wed / Sat (90 min)
Thurs / Fri (60 min)

Attend as often as your schedule allows.
Bottom Line: The Program Works!
You are not Alone!

___________________
Those Already Enrolled
---

Overcome public speaking fear with gradual exposure, in a supportive environment. We have been helping professionals, with moderate to severe public speaking issues, become dynamic, confident communicators in virtually any speaking situation. Our 20 year, 100% success rate for best man and maid of honor speeches is just one indication of our effectiveness. Whatever the challenge, (formal presentation, group discussion, business meeting, sales confrontation, employment interview) the program is customized to fit your needs. Compare our rates to comparable NYC public speaking courses to appreciate our commitment to keeping the program available and affordable for all.

Tired of talking to a therapist and getting nowhere? Face your fear in manageable steps, at your own pace. Get results, at a fraction of the cost, without endless discussion of root causes. Learn how and why our public speaking coaching is so effective! Enter
FREE SESSION
See, first hand, if the program is right for you. Attend a complimentary session to witness why the program is so effective at increasing skill and reducing anxiety, followed by an optional personal consultation to target your specific needs.
Absolutely no reason to be nervous. We understand how you feel, and provide a safe, friendly, supportive environment in which to face your issue in manageable steps. The visit is totally free, with no hidden charges, no pressure to participate, and no obligation to enroll.
Public Speaking Training NYC / Convenient Upper West Side Location
Ongoing sessions are held Tuesdays and Wednesdays - 6:30 PM; Thursdays and Fridays - 6:00 PM; Saturdays - 10:00 AM. Attend at your convenience by clicking below to reserve.
"I went to psychiatrists, hypno-therapists, as well as other group therapies and none of them had an effective approach to dealing with anxiety and public speaking. When I started the public speaking coaching in your classes, I experienced lasting changes in my perception and ability to interact with other people comfortably in group settings. It was the whole process of gradual exposure that put me at ease and softened my anxieties a great deal. I am forever grateful that I have stumbled upon these public speaking classes and owe great thanks to you Charles. Your patience, kindness, and concern have also made the classes an enjoyable experience and it was always a pleasure to be there"

S. Ram
Standard Rate - 10 Sessions $425.00

* Enroll Now and Save *

10 sessions / $399 - Enroll & Save

No charge for missed sessions with notice, and no refunds.

Private Counseling and public speaking coaching - $100 (50 min.) - Reserve Private

This highly concentrated and effective one week course of study includes 4 (50 min.) private sessions, as well as participation in 8 different support groups (90 minutes each), over the course of the week. The entire package of intensive therapy and group exposure is only $999. Payment options below.

1. Save $99.00 with - Full Payment ($900)

2. Down Payment - $199 Down